Mocked at first by some, Occupy Wall Street is showing the potential of online 'hacktivism' allied with street protest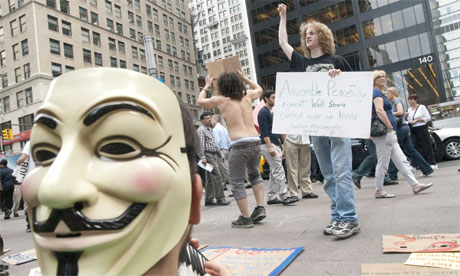 Defying

harsh critiques from Stephen Colbert

and slews of bloggers who scoffed last week at the "leaderless", "directionless", Frisbee-throwing hipsters camping out on cardboard at a random

New York

City park in the financial district,

Occupy Wall Street

appears to be gaining ground. From the modest 200 occupiers last week, numbers of protesters rose to an estimated peak of approximately 3,000 to 5,000 at the weekend's march. Media attention has grown exponentially. After taking their inspiration from the Egyptian "one demand" model, Occupy Wall Street have now released

their list of "one" demands

, bringing much-needed clarity to their objectives. The movement has moved to reach out to a broader base, including labor unions. Last week's execution of Troy Davis also contributed to the growth of Occupy Wall Street as crowds of protesters in Zucotti Park, renamed Liberty Plaza, swelled to approximately 1,500 last Thursday night demanding an end to capital punishment. Violence caught on camera over the weekend of police arresting approximately 80 protesters and,

in one now-notorious case, apparently spraying mace

into the faces of female protesters has generated an outcry over the

NYPD's "cowardly" use of force

on peaceful protesters. Thanks to these two incidents, says one protester, Danny Garza, "Occupy Wall Street has gotten bigger than we ever thought it could be." But the

protest

's profile cannot be measured purely in numbers of street protesters: on the periphery of Liberty Plaza is a parallel internet-based

activism

buttressing the movement. Under the banner of the virtual collective

Anonymous

, these "hacktivists" are now engaged in the physical action of street protest. "Groundfags" in Liberty Park communicate back and forth with online activists. The new dynamics of combined street and online activism have significantly underpinned Occupy Wall Street as a distinctive new movement. "We can physically be at a protest one day and the next day show up online," according to an Anonymous activist who goes by the name of "MotorMouth". The most concrete example of this symbiotic relationship is the rapid online identification by

Anonymous activists of an NYPD officer they claim to have been the perpetrator in the pepper-spray incident

. Naming an individual police officer may be a controversial tactic, but Occupy Wall Street has used

social networking

media as a positive organisational tool. When it emerged that a handful of activists were prepared to incite rioting and provoke the police days before Occupy Wall Street was to begin,

Anonymous developed a Twitter application called URGE

, launching an online campaign designed to quell potential violence. Anonymous "culture-jammed" Twitter with messages to keep protests peaceful, using top Twitter trends from around the world. The involvement of Anonymous activists has also helped the movement make new connections. When activists expressed outrage at Troy Davis's execution on Wednesday night,

Anonymous linked the death penalty

with the protests. One Anonymous figure, by the name of "Jackal", says:

"This is a new way to protest. Many of us have done our fair share of street protesting. But they drag us into the streets, and they mace us. Now we have brought our protests into the online social media space. We do it all at once – the street protesting along with our distributed denial of service [DDoS] attacks. We are a bit of an online flash mob."

What will become of Occupy Wall Street is uncertain:

protesters now face eviction from Zucotti Park

; yet the movement has sparked similar activism in Chicago, Boston, Denver and other cities throughout the

United States

. Much has been written about the "Twitter revolution" dimension of the Arab Spring; now it looks as though, in this emerging alliance between street protest and online activism, the Arab Spring is turning to American Fall.
nb : guardian