Hurricane Irene is coming fast and will hit the East Coast of the United States within a matter of hours. Hurricanes are a very destructive force of nature bringing the threat of floods, as well as winds capable of uprooting trees and leveling buildings.

The devastation may seem overwhelming, but business must go on as quickly as possible. Here are some tips to consider to help your business bounce back and get up and running as quickly as possible in the wake of Hurricane Irene.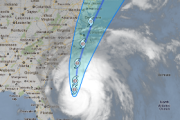 Hurricane Irene will hit the East Coast within a matter of hours.
1. Have a Plan
. Consider what the impact will be if power and communications are down for a day…or a week. Communicate now--proactively--with suppliers, partners, customers, or other affected parties to explain the situation, and to inform them that business may be interrupted, and you may be unable to communicate reliably, but that business will resume as quickly as possible.
Think about what is absolutely essential to accomplish critical business functions, and come up with a plan to get those functions working again as quickly as possible. If you need to replace equipment--either temporarily or permanently--where will you get it? Other businesses will also be looking for equipment so it may be hard to find.
2. Stay in Touch
. Make sure that you have updated contact information for your employees. Follow up to make sure they are safe once Irene blows through, and to let them know the status of the business and when you expect them to return to work.
Identify key personnel and let them know ahead of time that you may need them to help keep things going in the aftermath of the hurricane, and resume business operations as soon as possible.
3. Protect Your Data
. Your data should be backed up somewhere safe--in other words, somewhere that is not in the path of the hurricane; where you are confident it can survive the natural disaster so you will still have it if you need it. If you have your data backed up on DVDs or other media that is sitting in a closet in your office, odds are fair it will be destroyed as well.
It is too late at this point to
turn to cloud-based solutions
. Storing data in the cloud is a great way to protect it in the event of a natural disaster, but there is no way you can get gigabytes of data uploaded in time unless you have some serious bandwidth available.
At this point, your best bet is to use a disaster-proof external drive like
those offered by ioSafe
. It is late, but the drives are sold at retail outlets like Walmart that operate 24 hours, so you might still be able to pick one up. Alternatively, if you have a standard external hard drive, you might be able to place it inside a fire safe of some sort to give it some protection from the elements.
4. Get Connected
. It is almost inevitable that
communications will go down
for some businesses. That could mean a loss of voice communications, or data, or both. Traditional landlines come in handy in a natural disaster because the phone system can continue working long after the power goes out.
If your business relies on voice-over IP (VoIP) communications like Vonage, Skype, Google Voice, or the VoIP services offered by many cable providers, remember that your Internet is your voice, and when you lose one you lose them both.
It can be handy to have cell phones available from multiple providers. AT&T towers may be down, but Verizon might work fine--or vice versa. It is also helpful if you have smartphones capable of being
used as a Wi-Fi hotspot
so you have an alternative means of connecting to the Internet if necessary.
Don't forget all of the standard hurricane survival tips--have lots of bottled water, batteries, canned goods (remember the can opener), and so forth. Most of all, stay safe. Hopefully these tips will help you continue doing business right through the hurricane, or resume business as quickly as possible, but none of that matters in the least compared with ensuring your own safety, your family's safety, and the safety of your employees and their families.
nb : pcworld